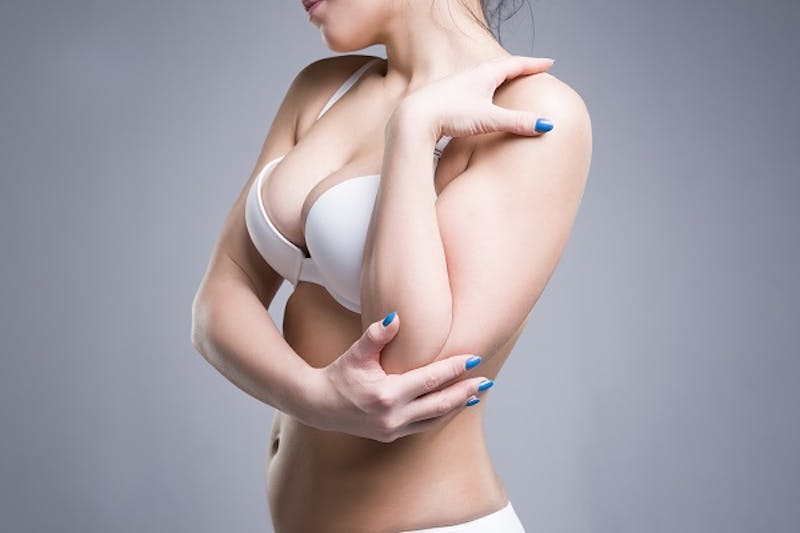 After a breast augmentation, you can expect to take about a week off work until discomfort and swelling subside. You will also have some physical activity restrictions for several weeks. Keep in mind that every breast augmentation patient and procedure is unique. Healing times vary based on where incisions are made, the placement of the implants, and the implant size.
Dr. Joshua Hyman is a double-board-certified plastic surgeon who takes special care to provide each patient with personalized instructions for recovery. Our team is dedicated to supporting you at every stage of the breast augmentation process.
What to Expect in the First Five Days After Breast Augmentation Surgery
The first few days after your surgery will be the least comfortable. However, within three to five days of your surgery, discomfort will decrease significantly if you follow Dr. Hyman's instructions.
Surgical bra – To protect your new breasts and promote healing, you will be fitted with a surgical bra. This garment is similar to a sports bra, with an elastic band and no underwires. It opens in the front, so you can easily adjust it, remove it, and put it back on.

Stabilizing strap – In most cases, Dr. Hyman places a strap around your breasts to ensure that they maintain the optimal position. The strap will also aid in reducing swelling.

Tenderness and pain – It is normal to have soreness around the incision sites after your breast augmentation. Follow our instructions for keeping your incisions clean and dry, and this symptom will fade before you know it.

Swelling – It generally takes a few days for discomfort due to swelling to diminish.

Tightness – You may experience some tightness of the skin and tissue in your chest area. As your body recovers and accommodates your implants, these sensations will dissipate.

Limited physical activity – Dr. Hyman will discuss the appropriate level of physical activity for you as you heal. Some movement is important to promote healthy blood circulation, so we recommend that you take some gentle walks the same day as your surgery and the following days as well. However, heavy lifting and other strenuous activities should be avoided until Dr. Hyman advises otherwise.

Water restrictions – Dr. Hyman will clear you to take a shower after two to three days. Other types of water exposure should be avoided for two to four weeks. This restriction includes baths, swimming, and hot-tubbing.

Massage –Dr. Hyman will provide instructions for how to massage your breast area to encourage optimal healing and reduce discomfort.

Follow up visit – After the first three to five days, you will visit our office so Dr. Hyman can assess your healing.
What to Expect in the First Two Weeks After Breast Augmentation Surgery
Within the first two weeks after your procedure, you will feel much better. It's important not to rush back into your normal routine too soon, so make sure to consult with us before undertaking more strenuous activities.
Back to work – You can expect to return to work within a week of your surgery unless your job is very physically demanding.

Physical activity – After about two weeks, Dr. Hyman will likely approve light exercise. Intense lifting or excessive use of your arms and chest is not recommended until you've had another couple of weeks of recovery.

Check your posture – Many patients have a tendency to hunch forward in the days immediately after surgery. This, along with the change in your chest size, can result in discomfort in your back or shoulders. Being mindful of your posture can help you prevent and relieve this symptom.
What to Expect in the Months Following Your Breast Augmentation Surgery
You will find yourself feeling better and getting used to your enhanced breasts in the months following your procedure. You will be cleared for exercise and to resume your normal range of activities.
Scar reduction – Breast augmentation scars are typically minimal and will naturally fade over several months to a year. We will advise you of topical creams or other treatments that can further reduce the appearance of your incision scars.

Final results – Your implants will arrive at their final position after the area has healed and your skin and tissue have adjusted to accommodate your new chest size. This process is sometimes called "settling" and can take up to three months.
Schedule a Free Breast Augmentation Consultation in New York
If you're ready to enhance your breasts, call our office at 212-517-5157 to schedule a complimentary consultation with Dr. Hyman. Our state-of-the-art office is located in Manhattan. We proudly serve local New York patients and out-of-town patients.